Home » Categories » Riflescope Mounting » Recknagel
Sako 75 Picatinny Rail Fitting Problems
Article Number: 31 | Rating: Unrated | Last Updated: Thu, Mar 6, 2014 at 1:29 PM
When Mounting a Picatinny Rail onto a Sako 75 Action
Below is the Sako Mounting block on a Picatinny Rail. Pictured on the left of the tapered dovetail "cone" shape which slides on to the Sako 75 rifle action. The picture on the right shows the back view of the dovetail shape.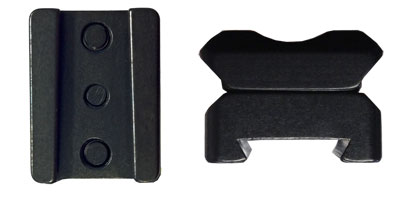 When fitting a picatinny rail to a Sako 75, you may experience some difficulty.
This is because the Sako 75 Series has very small variations in their dovetails to attach the mount to. These are invisible to the naked eye and can be solved by filing away a small amount from the mount.
---
Explanation of Problem:
That some Sako 75 actions have quite high tolerances and for that reason it is possible that the mount will be tight on the cone.
Pictured below on the left is how the mount should fit onto the rifle. The cone fits over the mount perfectly without any gaps. On the right, the mount is too narrow and doesn't fit onto the rifle correctly, as there is a gap left.
---
Solution:
The recommended solution would be to carefully file away the section of the mount until it fits. This is quite a simple gun smithing procedure. Below shows an example of where to file away until the mount fits to the rifle.
You will have to make this alteration this way as a loose mount will not hold zero. The hand fitting required can be done at home with a standard tools. If there are any problems, we can advise on the method - Contact Us on 01978 66 00 01.
Attachments
There are no attachments for this article.
Comments
There are no comments for this article. Be the first to post a comment.
Related Articles