Products | Recknagel
Recknagel are a German based company specialising in producing high quality precision made scope mounts, gun parts, gun furniture and more. We are seeing a rise in popularity and excellent feedback on the Recknagel Picatinny Rails and Picatinny Rings.

View the Latest Catalogue
The Recknagel Catalogue has thousands of precision made parts and components for scope mounting, custom gun making and more. You can browse the current catalogue including the latest Tactical Catalogue.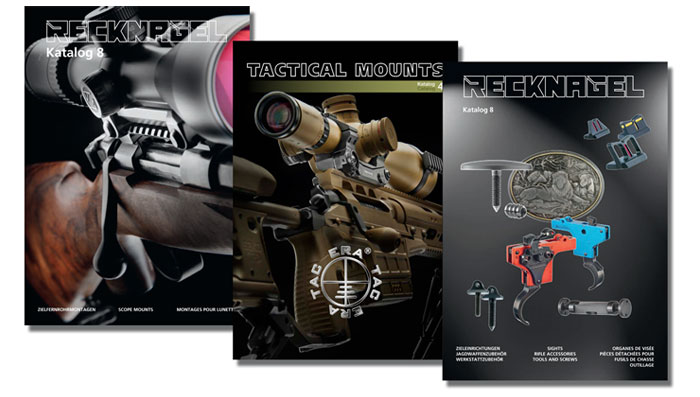 Picatinny Rings, Rails & Bases
We supply picatinny rings in a number of different sizes, heights and styles. Including the standard steel tri-nut version which is made to stay on your rifle, or the Quick Detatchable version, which has levers to release the rings locking mechanism from the rail. Also available is a number of picatinny rails, which are pre-drilled and precision made for a wide range of popular rifle models including, Anschutz, Browning, CZ, Howa, Remington, Sauer, Sako, Tikka, and Winchester. See the full range of options here >>>
---

The ERATAC Tactical Range
A wide range of ERATAC Scope Mounting hardware and Accessories is available from Recknagel. Specialising in high precision scope mounting equipment and much more. You can see the ERATAC Section for an overview of the product range or view the latest ERATAC Catlogue here.
---
Hardware to Suit Every Situation
With the vast Recknagel Catalogue, we are always able to find a scope mount solution. There are a wide range of sizes, heights, materials and styles available. Sometimes it's best to talk to the experts to get an overview of the possibilities and the best solution for your scope mounting enquiry.
Getting the Correct Parts
We are always on hand to help you select the correct parts for your scope mounting solution. The most common questions we get asked are, what heights and parts do I need? This can vary from rifle model and scope model/size. We have put together a step-by-step instructional section for getting the correct height mounting using the picatinny rail and rings system.
See the Getting the Correct Height Instructions for Picatinny Rail and Rings.
ERA Silencer Range
The SOB01 and SOB02 Silencer - AVAILABLE FROM YOUR LOCAL GUN SHOP
Find out more about these stunning Silencers - Recknagel ERA Silencer Section